In this report, we take a look at how cybersecurity venture capital has evolved over the past decade, how it has been impacted by the pandemic, and what it looks like for 2022 and beyond.
Main Takeaways:
Despite the global pandemic, 2020 was a record year for cybersecurity investment, with more than $7.8 billion invested globally in the industry.
Since 2011, investment in cybersecurity companies has grown more than ninefold.
In 2020, the U.S. accounted for 76 percent of global cybersecurity funding at $5.9 billion.
Israel is the second largest country in the industry – in 2020, more than 20% of venture capital in the country went to cybersecurity companies.
Six new cybersecurity unicorns were recorded in 2020, a single-year record at the time. Just a few months into 2021, nine new cybersecurity unicorns have emerged, far surpassing the 2020 record.
By 2021, more than $3.7 billion in cybersecurity investment has been recorded globally to date. This is expected to break the 2020 record.
Introduction to the Global Cybersecurity Venture Capital Report
As COVID-19 spreads across the globe, and many companies are turning to remote work, the need for cybersecurity has greatly increased. Due to the fragmented workforce, full digital adoption is no longer an option, but a necessity. This has led to an increase in the transfer of data and sensitive documents taking place in the cloud, and companies are looking for enhanced protection against hackers and data breaches. This, in turn, has led to the rise of new cybersecurity startups ready to take advantage of the opportunity, and venture capitalists flooded the industry with new funding.
In this report, we take a look at how cybersecurity venture capital has evolved over the past decade, how it has been impacted by the pandemic, and what it looks like for 2021 and beyond.
What is cybersecurity?
Cybersecurity is the practice of protecting systems from information leaks and threats. There are several common areas of network security, including but not limited to: network security, cloud security, data loss prevention, intrusion detection, identity and access management, endpoint protection, and anti-malware.
Why should we care about cybersecurity?
Global venture capital investment in the cybersecurity industry reached an all-time high in 2020 at $7.8 billion. About 1,500 cybersecurity companies around the world have received venture capital since 2017 but have yet to exit. About 58% are seed stage companies, 32% are early stage and 10% are late stage.
The cybersecurity industry has been evolving rapidly globally over the past decade, and with many companies forced to transition online, the pandemic has only added to that urgency and industry relevance. According to a Gartner report, end-user spending on the information security and risk management market is expected to reach $207.7 billion by 2024.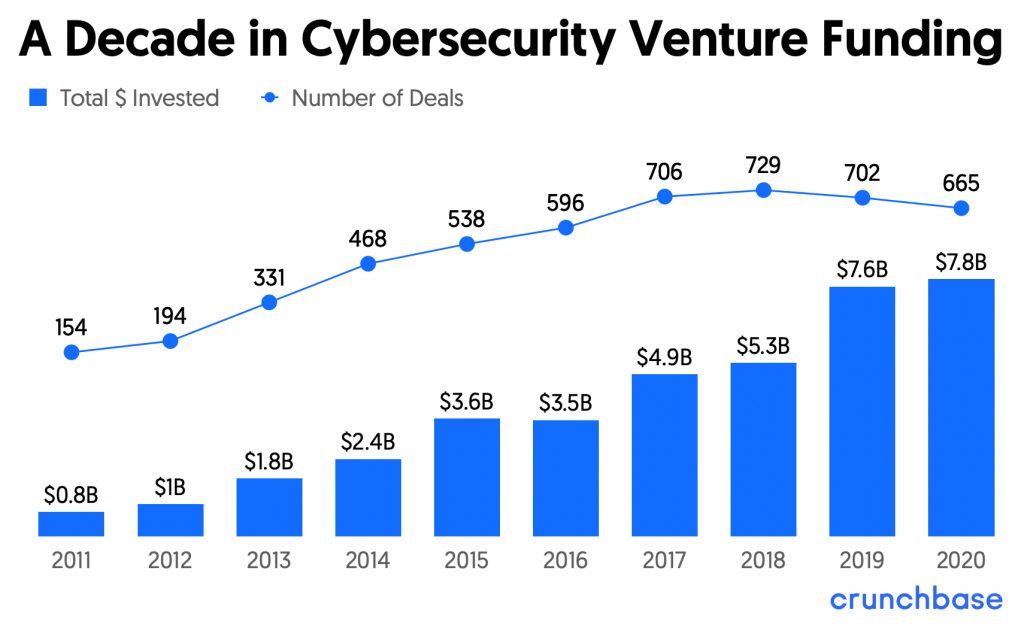 Highly public and damaging data breaches have also played a large role in the rapid growth of the cybersecurity industry. In April 2020, the FBI Cyber ​​Division reported that cybersecurity complaints had quadrupled every day as hackers took advantage of remote workers and day-to-day business activities to move online. Cyber ​​breaches can be particularly expensive – including the cost of resolving the issue and the potential cost of losing customers due to a lack of trust. A wide variety of cybersecurity tools can help limit the potential for costly breaches.
While companies have been slowly moving to the cloud over the past decade, the pandemic has greatly accelerated digital transformation. As companies increase their cloud usage and the number of internet-connected assets, it creates a larger attack surface.
Just as the pandemic accelerated cloud transformation, it also accelerated the momentum of cloud security companies like Lacework, Aqua Security, OwnBackup, Axonius, all of which have raised more than $100 million in funding since the pandemic began . And the attack surface management company Vast, which announced more than 100% year-over-year growth in October 2020, signed an $80 billion acquisition of Palo Alto Networks.
With many companies announcing remote-first policies indefinitely, and with more than $3.7 billion in funding already recorded in 2021, we expect this momentum to continue (find more about 2021 funding here).
Cybersecurity investments in the last decade
The cybersecurity industry has been growing steadily over the past decade, experiencing a particularly explosive start in 2019, with $7.6 billion invested in the industry, a 44 percent increase from 2018.
Looking at total funding in the industry from 2011 to 2020, Israel is the second-largest country after the United States, raising about $2.7 billion (although most of the funding came from the past two years). China came in third, raising $1.8 billion over a decade. The UK and Canada ranked fourth and fifth respectively.