Ethereum Founder Vitalik Buterin is more responsible than anyone for turning blockchain and cryptocurrency from an obscure way to make peer-to-peer payments into a technology embraced by companies ranging from Amazon and Walmart to Bank of America and the Banque de France.
So when he says attempts by Meta's Mark Zuckerberg and a horde of venture capitalists to build the metaverse are doomed, it's probably worth paying attention.
Meta project will not work according to Vitalik Buterin
If the word "metaverse" is in fashion at the moment, it is also subject to a lot of debate. Particularly with regard to its usefulness and the interest it may have for consumers. It is this point on which rebounded Vitalik Buterin, who expressed himself on the initiatives of Meta in a Twitter thread.
According to him, the metaverse as a concept is here to stay, but not necessarily the initiatives of companies: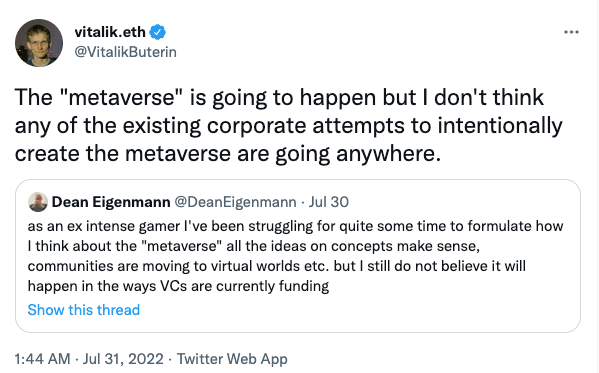 In question, according to the creator of the Ethereum network, a definition remains rather vague. The first studies on the subject show it: potential future users of the metaverse do not really know what it is. And even within the ecosystem, its definition is hotly debated.
A solution to a non-existent problem?
According to Vitalik Buterin, no one knows at this stage what the metaverse really is, and what uses will become more democratic. Hence a clear conclusion:
The creator of Ethereum takes up a criticism often heard in the ecosystem, with a question: are companies creating solutions to problems that do not exist?
For now, the first feedback from potential users seems to go in this direction. A study published last week showed that a large part of consumers simply do not understand what the metaverse is and what its interest could be. And Meta's domain division suffered a substantial loss last quarter: $2.81 billion. However, we note the substantial weight of research and development, which tends to undermine these results.
However, the sector could represent a particularly high turnover in the years to come. Some estimate it at 800 billion dollars by 2024. The McKinsey firm is even more optimistic since it estimates that the metaverse sector will weigh 5,000 billion dollars by 2030. Any mass adoption passing through education, it will therefore be necessary that the general public seizes more widely the area for this to happen.